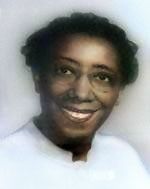 Miss Marie Holland
Our library is named after Miss Marie L. Holland (1910 – 2001), who was an English teacher in our building when it was known as Carver High School. Miss Holland had a heart of gold and was known to go beyond the boundaries of her classroom to meet the needs of students. "She supplied students with needed clothing and shoes; made arrangements to cover daily lunch fees; and paid for direly needed medical care for those that needed it," says Carver Alumnus, Mrs. Audrey Williams.  In agreement with Mrs. Williams is Carver alumnus Mr. Richard Wilson, "With the library being the heart of the school, it was a natural move to dedicate Crittenden's library in her honor."
In 1957, Miss Holland established the Marie Holland Scholarship which supplied college tuition annually to a notible graduating senior.  Today, it is known as the Carver Alumni Scholarship.  The first recipient of this scholarship was Mr. Everette A. "Teddy" Hicks, our current NNPS school board president, and past faculty member at the historic Carver High School.  "I don't know a soul who doesn't remember Miss Holland with fundness and love," says Mr. Hicks.
Miss Holland never married. She literally dedicated her life to her students.  She is lovingly remembered by her students, family and community, and is warmly referred to as Ma Holland by all.
Carver High School Alumni Mrs. Audrey Williams (left) and
Mr. Richard Wilson (right) remember Miss Holland.
NNPS Board President, Mr. Everette
"Teddy" Hicks received the first Marie
Holland Scholarship.