The library is a hub of student activity at Crittenden. Librarians are always available to assist students with electronic and print-based information gathering and finding books for assignments or pleasure reading. Crittenden recognizes the importance of information skills in the 21st-Century. The library plays an integral role in helping students develop their capacity to locate, evaluate, and apply information. Classes frequently visit the library to work on specific projects. The librarian works in collaboration with teachers to offer instruction and assistance with research and project design.  It is the Marie Holland Library's mission to promote the joy of reading and life long learn through literature authentic to the needs of its patrons, to provide high-quality library services, and to develop collections that support Crittenden Middle School's academic standards and STEM initiative.
In addition to more than 12,000 books, a DVD/VHS  library of over 300 films, 1 daily newspaper, and a dozen magazines, the library has many other resources for students, faculty, and staff.  Our library can accommodate 100 plus students in an inviting environment that is conducive to both individual and collaborative work. We have one large group study space that can easily support two collaborative group works simultaneously. There is also a dedicated computer lab space of 30 Chromebooks, referred to as the stage computers, available for reserve usage through the library staff.  Our status for BYOD is green, and we are working to become a Google Certified School Library Program, as part of our efforts to be a Future Ready Library.  The library catalog is available on and off campus via the library website.  Additionally, the website provides access to a collection of  11  subscription research databases.
The library website has been completely redesigned for the 2012-13 school year. It hosts frequently updated content, including book reviews, current news, useful links, and study aids. Recent changes to our website enable users to contribute content. Keep an eye on our site for examples of quality student work, from video projects to poetry. As always, we welcome your feedback and participation.
Throughout the school year, the library hosts an array of special events. Recent activities have included talks and book signings with visiting authors, a scavenger hunt and a trivia competition, technology training,  and poetry readings. As we plan events for this school year, we invite the collaboration of community members in developing new ideas to keep reading and learning at Crittenden fresh and engaging.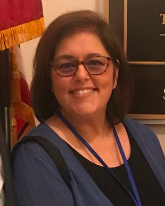 New to the Marie Holland Library Family!
This year we would like to welcome a new addition to our staff. Mrs. Laurie Meseroll Bolt, formerly of Hampton's Phoebus High School Library and state President of our professional school librarian organization!  Welcome to Ms. Marie's Library, Mrs. Bolt!
Have a question or suggestion? Feel free to email us. We'd love to hear from you.
%%wpcontactform%%